Printing methods we support
Screen Printed T-Shirts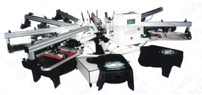 Screen-printing is a process where a design, drawing, or other format is converted to film, and the film is then used to produce a stencil on the screen. The inks are then transferred through the tiny dots in the stencil to achieve the desired result.
This process involves exact pressures, specialized inks, and heat curing that result in a long lasting design. Screen printing has a high detailed setup process to ensure the best quality print. The costs of this method is in the set-up process. So the more colours you have the higher the set-up costs. However, with this printing process comes a professional product that can be washed without fading. This method is ideal for large quantity customers looking for a professional and durable finish.
Read more about Screen printing
DTG Digital Printing

Direct To Garment (DTG) Digital printing is the latest in digital garment printing technology. It is like an inkjet printer that prints directly to a t-shirt. This digital printer will accept most kinds of graphic files. No colour separations or expensive artwork needed.
Ideal for small quantity customers with detailed artwork. This method is very cost effective for small quantities compared to full colour screen printing.
The DTG t-shirt printer can print on all types of light and dark coloured garments. The inks used are specialty formulated DTGTEX Inks and of very high quality. The finish of the print is excellent and is very wash safe.
Read more about DTG Digital printing
Digital Transfer Overlay

Your design is printed or Die-Cut (with the help of a special printer/plotter) on a specific type of transfer material. The transfer material is pressed onto the t-shirt under high temperature/pressure. The transfer materials come in a large range like Fusion-Flex, FX Film, Thermo-film, Sub-Block, Thermo-Flock, Light Film, Thermo-stretch, Neon, Twill and Ezy-Breathe.
The Digital Printed Transfer quality is great, very durable, flexible and is soft to touch. Computer Cut vinyl's come in many special materials, like Puffs, Glow-in-the-Darks, Metallic, Foils, Fluros etc. This method is ideal for small run customers looking for a fast turnaround time.
Your options don't stop here, we have even more options like Screen Printed plastisol transfers in both spot colour or full colour CMYK printing.
Read more about Digital Transfer Overlays
Dye Sublimation

Your design is printed (with the help of a specialised colour printer) in mirror reverse on a type of transfer material. The transfer material is A4 sized. The printed material is placed face down on the garment and pressed under high temperature. The dyes from the transfer embed deeply into the fabric and bond permanently. The transfer paper is then removed.
Dye Sublimation Transfers are only available for surfaces that are white or light in colour and contain polyester or a high polyester content. Such as stubby coolers, some poly/cotton hoodies, sweats, polo's and hi-visability work wear.
Read more about Dye Sublimation