Trade Show Solutions with Branded Promotional Products
Last Updated: Monday 4th December 2017 By Robert Howth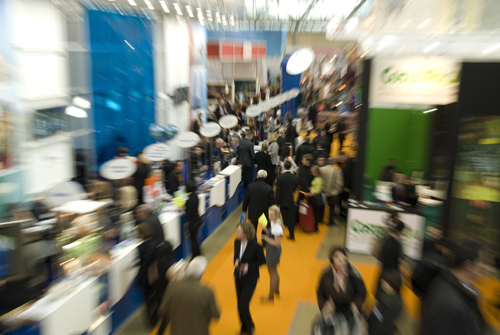 There is no question that promotional product giveaways at trade shows, are an unparalleled way to attract new clients, grow your business, and increase your overall brand awareness. This means promotional items are a proven and cost effective way to market your business to a large audience while investing minimal time and work.
Sounds pretty efficient, right?
Well, if you have never invested in promotional products, you may be a bit hesitant; however, if you read on, you will learn some of our strategies for leveraging these products at your next trade show event.
Besides standing in the center of the aisle at the tradeshow and shouting "Hey! Look at me" you can use promotional products to get visitors attention. There is not a more powerful word in the world besides FREE, so why not take advantage of that fact.
When someone is given something, and not expected to give back in return, this triggers a natural human response called the law of reciprocity. This natural law comes in handy – when you give, you shall receive. When you give a gift to someone passing your trade show booth, they will be much more likely to reciprocate your kind gesture.
But, before you just start handing your goodies out all over the place, you need a clearly defined plan of attack.
We suggest you think about 2-3 different levels of products that you will giveaway.
1. Break the Ice With Novelty Items
The first level is a product that is relatively cheap. Things like lollies or a pen that you can give away to the bulk of the passers by, to say thanks for stopping by, or thanks for taking our brochure or a tote bag with some promotional material about your product of business.
While promotional items can open the lines of communication, they can also get people over to your booth to see what you have to offer.
These types of offers are a good way to break the ice and get a conversation going with the prospect.
Giving someone a free item, no matter if it's a pen, lolly bag or stress ball, will help to break the ice and help you engage in a conversation with that individual. Also, because you gave them something – for free – they are much more likely to listen to what you have to say.
2. The Bribe Offer With A Useful Gift
The next level is a bribe offer, a much better quality and useful product or item that speaks about your business. You should use these higher quality items as a give away offer, in exchange for some personal information, like an email address, phone number or to sign up to some other offer.
We say these items should be useful because we don't want your potential customer to just put it aside, the goal is to get them to use it, the more often the better.
When it comes to quality promotional products, it means that the person will be much more likely to do business with you. Additionally, they will take away something with your brand's name all over it - a constant reminder of your business.
3. Optional - Something Unique For Special Customers
The third level is optional, but it may be a nice gesture for your special customers. You could send an email out to all your special customers before the event, and ask them to come and visit you. If they do come to your booth, they will receive a special gift. This will encourage them to come and visit you, where you can meet up and continue to build rapport and give them your special gift.
In Conclusion - Promotional Items Last
Perhaps one of the most appealing factors of promotional items is that they will stick around for a LOOOONG time. A television ad will disappear after a few weeks, the same with a radio ad. However, a a t-shirt can stick around for a year, a free pen for many years, and other items indefinitely.
Consider what is likely to last the longest and be the most useful: keychains, t-shirts, pens, notepads and then select the one that is right for you.
This will give your brand long-term exposure long after the conclusion of the trade show.
Why Use Us For Promotional Products?
We have been in the business of branded promotional products for more than 20 years and have built up a large range of suppliers and print solutions to help every business.
Need lots of colours printed on t-shirts and apparel?
Looking for Branded products at wholesale prices?
Want to print your logo on a range of different items?
Do you have different text or images for each product?
If you know what you require or have a specific product in mind, then let us know here. Contact Us | Quote Form
Have you had a good or a bad experience with promotional products at a Trade Show? Leave your comment below. We would love to hear from you.